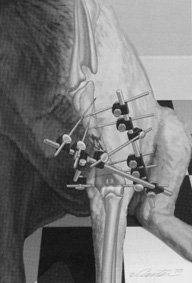 Orthopaedic surgery is the medical specialty that focuses on injuries and diseases of the musculoskeletal system. It involves repairing diseases of the bones such as fractures, cruciate ruptures, hip dysplasia, or patella luxations.
If a surgical procedure requires specialized equipment or expertise, we are able to arrange for a board-certified surgeon to come into our clinic to perform the surgery on your pet, avoiding the need to travel to a referral hospital, and allowing us to continue to care for your pet after surgery until he or she is ready to go home.
Rehabilitation programs are needed to help your dog or cat return to their regular, daily routines with improved range of motion and decreased pain. We will prescribe home exercise programs that may help increase healing and recovery.
Please contact us if you have any questions about these procedures or if you think your pet might benefit from them.