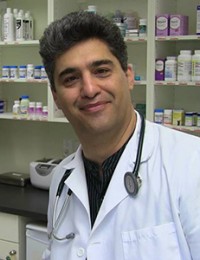 Dr. Ramin Azizi Mehr graduated from the University of Tehran in Iran in 1991, with a Veterinary Medicine degree. After graduating at the age of 24, he was assigned to establish the Veterinary Technology Institute at Ilam University, with the assistance of four other veterinarians. He then spent 4 years teaching veterinary technician students in animal production systems, biochemistry and infectious diseases. In addition to teaching, he also practiced as a large animal veterinarian on local farms.
Dr. Azizi Mehr gained experience in a variety of veterinary fields of medicine prior to immigrating to Canada with his wife.
In 2004, Dr. Azizi Mehr passed his national board exam and received his license to practice veterinary medicine in Canada, and has been practicing exclusively as a companion animal veterinarian since then.
He worked in both Kingston and Burlington as a small animal veterinarian for several years before opening Avro Pet Hospital in 2010. Dr. Azizi Mehrs professional interests include preventative medicine, abdominal and soft tissue surgery, dentistry and internal medicine.
Dr. Ramin Azizi Mehr strongly believes that in order to provide the best possible care for his patients, he needs to keep his knowledge up to date by participating in several different continued education courses, vet labs, seminars and conferences.